Being the first tenant to live in a new apartment should be thrilling, since everything from furniture to household appliances are brand new and up-to-date. Here are three luxury apartments, located in different neighborhoods of Chicago, that are opening up this spring.
Lake View – 2950 N. Sheridan
This spring, Wirtz Realty opened its first residential property on 2950 N. Sheridan Road in Lakeview East.
The community vibe, and proximity to the lakefront and great schools motivated Wirtz Realty to build a new property with luxury finished in Lakeview East, according to Senior Vice President Don Vitek's interview with Chicago Tribune.
Having obtained LEED certification, one of the most popular worldwide green building certification, this apartment is equipped with electric automobile charging stations and bicycle storage with tune-up stations.
Located in the historic community Lakeview East, 2950 N. Sheridan is surrounded by Belmont Harbor and Lincoln Park. Plus, it's also easy to commute to downtown from there. This apartment caters those who work or play in the city.
2950 N. Sheridan Road, 312-943-7000, 2950NSheridan.com
South Loop – Wells Place
Having completed constructions recently, Wells Place are leasing units for this spring and summer.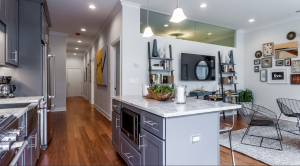 All the floor plans feature bamboo hardwood flooring and balcony or private outdoor spaces. Moreover, every bedroom has a custom designed closet that maximizes residents' needs for shelving and storage.
The South Loop, as a dynamic neighborhood, brings easy access for Wells Place residents to visit museum campus and find plenty of dining opportunities. Signature landmarks make the area to be one of the most livable neighborhoods in the city.
837 S. Wells St., 312-492-4392, WellsPlaceChicago.com
Near North Side – Niche 905
Featuring inviting lifestyle amenities, the luxury apartment tower Niche 905 started leasing units this month.
High-speed Internet service is accessible in this apartment. Whether you are a work-from-home professional or just enjoy spending your spare time on webs, Niche 905's gigabit Internet will meet all your needs.
For yogis and fitness enthusiasts, Niche 905 is not only equipped with yoga studio and fitness center, but providing fitness and health & wellness classes. On the rooftop deck, Niche 905 offers all seasons' activities from the outdoor spa and pool to the sky deck lounge with fire pit.
Exploring the city from the Near North Side is convenient. Dining options in Old Town and River North are just a few blocks away from this apartment. If you are a luxury shopper, you'd like to arrive at the Oak Street within a five-minute drive from it.
905 N. Orleans, 866-602-9931, Niche905.com
Photos from 2950 N. Sheridan, Wells Place and Niche 905.